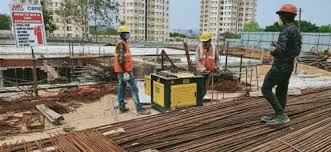 Difference between domestic and commercial construction
Difference between domestic and commercial construction
Domestic and commercial constructions are very different. While domestic construction mainly deals with residential properties such as houses, villas, bungalows, etc. whereas commercial construction involves office complexes, malls, etc. Together they make up the real estate sector of construction. The main differences in the two types of constructions i.e domestic and commercial are highlighted below:
Complexity: Commercial buildings are more complex although it depends on their function. The workers for commercial construction need to be more experienced and skilled, larger and more expensive equipment is required. Commercial projects can afford to be more costly than what the domestic market would accept. Residential construction in comparison is far simpler. The laws, standards which are applicable for commercial construction are more stringent.
Scale: The scale of the residential projects when compared to commercial is quite small. This is because the requirements are less. Thus, the residential buildings would be lesser in terms of the material required, labor, and machinery requirements. The commercial buildings are bigger than residential buildings and would be generally divided into different units. The size of the building to the design of the building will be quite different and commercial construction would be more complex as was discussed.
Infrastructure Requirement: Commercial construction needs more supportive infrastructure when compared to residential. The accessibility should be individual meaning the building should be accessible to all irrespective of age, gender, etc. There would be the need for elevators that will accommodate a sufficient amount of people, bathrooms that are easily accessible, even canteens. All of these are not that necessary for the residential sector. Also, commercial buildings need to be in the commercial zone, in market places.
HVAC, Mechanical, plumbing, and electrical works: The electrical, plumbing, and HVAC systems in commercial buildings are more complicated than residential buildings. This is because of the size of the building and its functionality and the more load being incurred than in the residential sector. The plumbing requirement should and the number of washrooms being provided in a commercial space would depend on the number of people that are expected to occupy the building. The HVAC design is more complex, though it is centralized.
Finishes: The finishes in the commercial architecture design are very different from residential. The focus is more on the aesthetics and functionality in commercial, which although could be an equally important factor for residential also, the main motive in commercial buildings is to attract the customers or improve the productivity of workers. Thus, the facade, the lighting, the floor layout should create an ambiance that would attract potential buyers or create an atmosphere of increased productivity, whereas in residential the focus is on providing a relaxing and calm place for an individual to make it their haven.
Domestic construction mainly deals with residential properties such as houses, villas, bungalows etc. whereas commercial construction involves office complexes, malls etc.

Easy Nirman

Construction was Never Easy Before Us