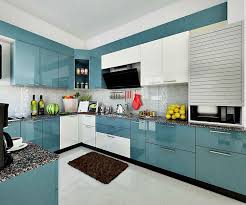 Modular Kitchen Needs
Modular Kitchen Needs

Kitchen, the most important part of a house, a room where a lot of time is spent. It is designed for its usefulness and functionality. Apart from this people nowadays spend more and more money on kitchen to make it looks elegant, stylish and in fashion. Well Modular Kitchen is the reason that people are spending a lot of money on their kitchens. What exactly a modular kitchen is?
A Modular Kitchen is a term used for the modern furniture layout which consists of modular cabinets of very fine material which hold different accessories inside, for effective utilization of the spaces in a kitchen. Normally, cabinets which are kept on the floor are termed as "floor units" or "floor cabinets" on which kitchen worktop is made. The kitchen worktop is mostly made up of marble, graphite or tile, creating areas for different activities in a kitchen. Just like floor cabinets, "wall units" or "wall cabinets" are held on the walls of kitchen for the storage purposes. Theses cabinets are mainly made up of wood. Other than these a modular kitchen constitutes internal accessories, chimneys, build-in-ovens, counter tops, stylish sinks etc.
The Modern Kitchen in India has really evolved in few years and has changed the lifestyle of the people in many ways. In fact, the kitchen market in India has become the fastest growing sector in the country due to which the demand for Modular Kitchens has gradually increased. If you are planning to renovate your kitchen into Modular one, you need to keep few things in mind so that it looks like a perfect kitchen that you always wanted. For this you can take a professional advice for proper planning and needs of your kitchen.
Let's see some of the needs and tips for a Modular Kitchen:
1. Design: The first and the foremost thing required for a Modular Kitchen is well laid design. Do not rush for the designs that you see in the showrooms or some other place. You need to understand your needs and design of your kitchen according to the space available in it. According to the space availability you can go for a L, C or U-shaped kitchen. Once you are convinced with a basic layout, figure out the electrical points carefully for your ovens, chimney, refrigerator, microwave and other appliances. After that you can go for cabinet designing.
2. Storage: Storage will decide the capacity of your kitchen, so you should intelligently use the kitchen area to make maximum storage space. For that you can have pull-out cabinets installed from floor to ceiling to use every corner of the kitchen efficiently. Just keep in mind that you don't overcrowd your kitchen with cabinets, install according to your needs and the available space.
3. Using Low-Maintenance materials: The main purpose of a Modular kitchen is to provide a simpler and elegant life. So one should use materials that require minimal or no maintenance at all. Using steel is one of the best options due to its durability, low maintenance and trendy designs. Stainless steel is widely used for sinks, counter tops, cabinets and holders.
4. Good Ventilation conditions: Proper ventilation is must for every kitchen. One do not want to go on sneezing while frying garlic and chillies. Proper ventilation helps to keep air clean and fresh from overpowering smells in the kitchen. Due to these reasons a modular kitchen is incomplete without a good exhaust fan or a chimney.
Modular Kitchen is a term used for the modern furniture layout which consists of modular cabinets of very fine material which hold different accessories inside, for effective utilization of the spaces

Easy Nirman

Construction was Never Easy Before Us