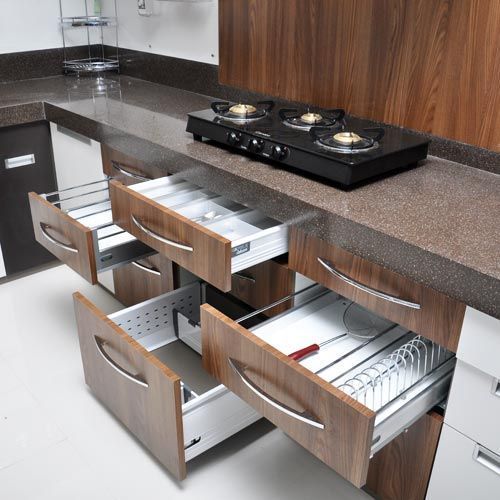 Modular kitchen requirements
These days the modular kitchen has become a necessity in homes.

It gives the optimum space utilization and a modern chic look.
for further information please click the links given below-
https://www.youtube.com/watch?v=x3te-PvSGfY
https://www.youtube.com/watch?v=K-kGM0_TkhA
https://www.youtube.com/watch?v=tgqW6ORbk3M
MATERIAL: The look and feel of your kitchen matters a lot.
You should that the material used is of good quality and that it is waterproof.
Don't just look at the glossy finish of the components but rather open the units and check if it suits your requirement or not.
Granite is the go-to material for countertops in India but with many choices available in the market you can check out eco-friendly countertops too.
SHAPE: The layout of your kitchen plays an important role and will depend upon the space available, the storage required, the amount of time spent in the kitchen, and the ease of doing work.
Common kitchen layouts are L-shaped kitchen, U-shaped kitchen, Straight kitchen, and Parallel kitchen.
DRAWERS: They are the heart of your kitchen's storage.
Having under-the-counter storage utilizes space that would have otherwise gone to waste.
Consider having a cutlery tray in your kitchen as it would compartmentalize your spoons, forks, knives, etc., and would make your life so much easier.
You should also opt for corner drawers and cabinets which make excellent use of the corner space.
CABINETS: Try opting for tall units especially if you tend to store a lot of groceries and other items.
Using the hideaway kitchen storage enables you to keep your appliances in a dry, safe place and also saves up your storage.
Pull-outs make the best use of space available.
Plan your storage according to your needs.
Also, the cabinets should be water, heat, and scratch-resistant.
COLOR: Color has a very big impact on our psychological health.
The choice of kitchen color is very important as you cook food for yourself and you're loved ones there.
Choose colors that you like being around, that soothe your mind.
Make sure that it goes with the color scheme of your kitchen.
Having a balance of metallic and wooden texture is important, while metal imparts the sense of being serious, wood lends warmth.
Chimney: They are very useful.
They save your walls from getting dark and prevent your kitchen from becoming suffocating.
There are many new features such as grease suction equipment that sucks some amount of grease.
Dishwasher: They are a must-have these days.
They come in various shapes and sizes.
You should consider the rinse cycles as well as washing styles while selecting an appropriate space for it.
ACCESSORIES: You should consider using glass shutters and glass shelves in your kitchen.
They can display your expensive china and crockery.
Inlaid lighting is the best suited for a modular kitchen, so you can opt for that.
These days modular kitchen has become a necessity in homes.

Easy Nirman

Construction was Never Easy Before Us