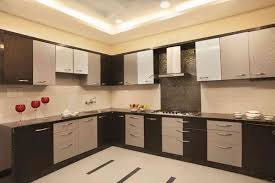 Modular kitchen Types
Modular kitchen Types
Are you planning to renovate your kitchen or buying a new home and looking for modular kitchen? Confused between which type of modular kitchen to go for? Fret not! We have for you here the common modular kitchen types, now you can decide for yourself which one suits you best.
·

STRAIGHT
LAYOUT

In this layout, the stove, the sink and the refrigerator are in a straight line. This type of layout is best suited for small spaces. However, it is not very ideal if storage is a big concern. It is said to have high efficiency in cooking, as the workspace is in a straight line.

This kind of layout is best suited for studio apartments. If you only want to do basic cooking in your kitchen and are big on utility of space, this is a good choice for you.
·

PARALLEL
LAYOUT

In this layout, the work area is divided into two parts, set against two opposite walls. It is ideal for long and narrow spaces. The sink and stove could be on the two parallel areas, thus separating 'dry' and 'wet' area. This is the layout that chefs recommend.

So if you are a lot into cooking and want to efficient with your time, this layout is your best bet. This is especially good for people who like having their things organized in neat, little categories.
·

L SHAPED
LAYOUT

In this layout, as the name suggests, an adjoining workspace is formed. It is ideal for small homes. You can get a lot of storage with this type of layout. Another advantage is that you can have a dining table in the kitchen with this layout.
·

U-SHAPED
LAYOUT

In this the workspace is divided in three parts. This layout is ideal for large spaces. It has the maximum storage of all layouts. It is especially ideal for you, if you are a fan of cooking, as you are bound to love the efficient use of kitchen workspace triangle, which is optimum in this layout.
·

ISLAND LAYOUT
In this kitchen layout you have a straight line layout or L-shaped layout plus an Island. The advantage of having the island is that you can use this space as an extra counter top or as a dining table.
This layout is the preferred choice all over the world and gives a contemporary look to the kitchen. Another, advantage of this layout is that this is ideal for entertaining purposes. You can make a mini-bar in the space available in the cabinets of the island. This makes the island layout the best choice for people who are not that big on cooking but love entertaining guests and want to have a happening kitchen to do that.
·

PENINSULA LAYOUT
This layout is similar to Island layout. The difference is that the extra space is connected to the main layout, which could be a straight layout or a L-shaped one. This one is more suitable for small spaces.
So, if you are someone who wants all the advantages of the island kitchen layout mentioned above but don't have enough space to accommodate that, then peninsula layout should be your ideal choice.
There are 6 common types of modular kitchen designs which are an L-shaped kitchen layout, Straight Modular Kitchen, Parallel or Galley Kitchen, Island,U-shaped kitchen, Peninsula or G-shaped kitchen

Easy Nirman

Construction was Never Easy Before Us