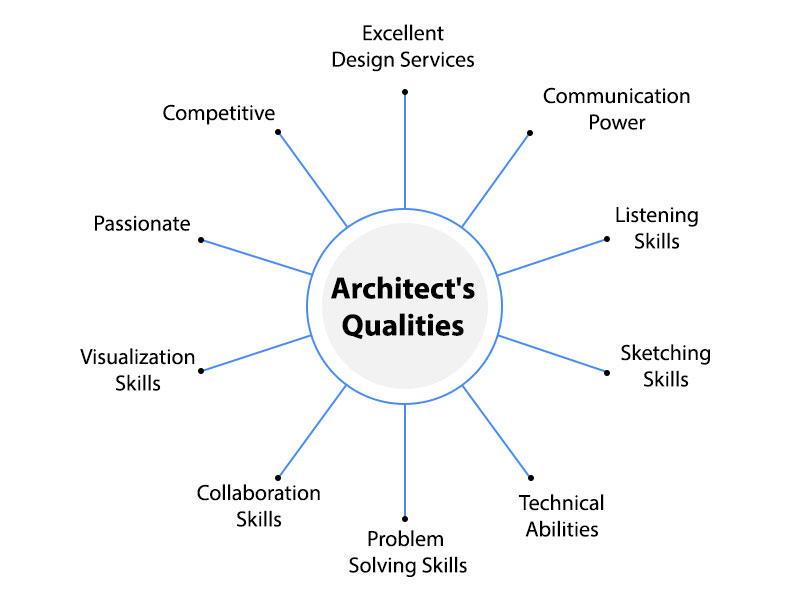 Qualities to search in an Architect
Qualities to search in an Architect
Creativity
It is important that the architect is very creative and can look at things differently. Since architecture predominantly deals with personal preferences and tastes, the architect should have the much-needed ability to identify your preference and design accordingly.
Passion
Your architect needs to be passionate about his work. Strong passion is the only thing that would help the architect get through tough times and the architect won't mind changing and re- changing the plans according to your wishes and desires as she/he would be determined to give the best to the work.
Professional
The architect needs to be creative but it is also important that they are a good business person. They should be able to not only design according to what you need and want but should also keep in mind the budget. It is important that they are reliable and can deliver what you require within the stipulated time.
Integrity & Responsibility
Your architect must maintain complete professional integrity. This means that the architect designs the building responsibly. Many times, architects design according to what the client wants rather than informing them about how something is to be done. Make sure your architect isn't one of that kind and tells you about how a certain thing is to be and who so.
Adaptability
Architects need to be ready to adapt their designs and workload when faced with unexpected problems or situations. All plans and projects are liable to change, at any minute and at any stage, which means that the most successful architects can adapt to their ever-changing environment efficiently. They ensure that all the problems encountered are solved.
Confidence
Architects face a lot of criticism from clients and there is often a various issue with the contractor about what is feasible and what isn't. It is necessary that the architect you choose is confident in his or her designs and can defend the decisions made.
Organization
Your architect must be an organized person. This would ensure that your work gets done on time and there are not many changes to be made later on. Being organized will help them to incorporate all of your inputs and ideas and create an exceptionally suitable design that meets all your requirements and desires.
Problem solver
All good architects need to have problem-solving skills. They need to identify the potential problems during the design stage and rectify them as soon as possible. They also need to set the priorities right and first concentrate on what is more important and separate it from the unimportant tasks.
Easy going
The architect must easily be going. The design can change anytime and it is very important to remain within the budget. Architects should be easy-going and relaxed. They need to approach the work with a calm mind. They need to have the ability to take criticisms and insults with ease.
Architect needs to be really passionate about his work.The architect needs to be creative but it is also important that they are a good business person.

Easy Nirman

Construction was Never Easy Before Us