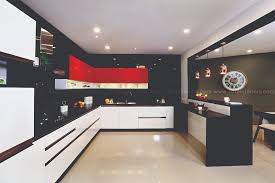 Things done at the time of making Modular Kitchen
Things done at the time of making Modular Kitchen
If you are thinking of investing in modular kitchens, there a few things that you should consider. These are things that should be done while making a modular kitchen.
Set your Wish List
You should find out your needs and desires and then plan your kitchen accordingly. By making a clear wish list, you will get a clarity of what you require and what could be eliminated. After you have recognized your needs you should prioritise them. Take professional help, as it would go a long way in helping you attain the kitchen you want, based on your needs and requirements.
Make up the Budget
You should keep your budget in mind while making your modular kitchen. Just because a technology is available doesn't mean you need to have it, based on your needs map out what you can afford and what is strictly off limits. Don't go overboard but don't neglect important elements of the modular kitchen either.
The golden triangle:
This is a thumb rule that suggests you to keep your stove, fridge and sink with in 4-10 ft of each other in such a way that these three make three vertices of a triangle. The basic idea behind this approach is that these three constitute the points where majority of time is spent in working. It is believed that following the golden triangle approach increases the efficiency.
Seating
Include some provision of putting a chair or a small settee in your kitchen. This is so that you can take a well deserved break as and when required. If you have an island, chairs around it could suffice. If not, try to add the chair somewhere unobstructive, from where you can keep an eye on what's cooking and catch your breath for a few minutes. It could also serve as a place where you can take a quick snack.
Materials
You should choose materials for your kitchen which will be easy to clean and maintain. Steel is a good option. Do add in some wood to bring in warmth. You can opt for stone countertops and do not forget the backsplashes, the area behind the stove is bound to get dirty and greasy, so make sure that the material of the backsplash is such that it could be cleaned easily.
Compartmentalize
The biggest advantage of a modular kitchen is the availability of various storage options. You can compartmentalize your utensils, crockery for easy access and it would also improve your efficiency while cooking, as you won't be wasting about your time searching for the right utensils. Keep spices etc. in the shelves near to the stove, where you can easily reach. This would save you a lot of time.
Ventilation & Lighting
Proper ventilation is very essential for kitchen. You should have a good exhaust system and a chimney or a good exhaust. This way you won't be struggling because of the fumes of the spices. Be very sure that the kitchen has an adequate lighting. Insufficient lighting will make your kitchen look and feel gloomy and cramped. Besides the main lighting fixture in the middle of the kitchen, you can also put task lights under the hanging cabinets.
The kitchen is considered to be the heart of the house and it is often the most used space.

Easy Nirman

Construction was Never Easy Before Us