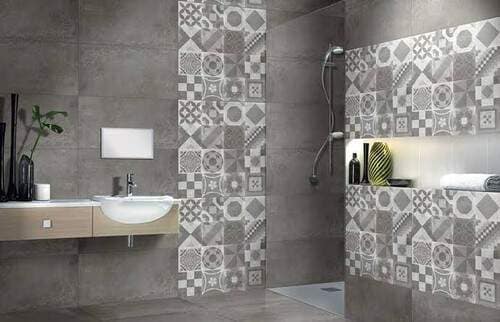 Which floor tiles is good for wet or bathroom area?
Which floor tiles are good for the wet or bathroom area?

When getting your bathroom designed or remodeled, a doubt that crops up generally are 'which tile is good for the bathroom area'.

The endless stream of options might leave you feeling overwhelmed and confused about which tile to choose.

In this article, we will tell you what factors you should consider when deciding the tiles for your bathroom.

This would help you in narrowing down your list and help in choosing bathroom flooring clearer.

The types of flooring which are generally suggested for bathrooms are porcelain, natural stone, ceramic tile, etc.

We will tell you about the qualities of these various flooring and how they suit the bathroom conditions.

With bathrooms you have to care about the material chosen because what you choose should be able to withstand water flow in the bathroom, it shouldn't be porous and give way to seepage.

The flooring shouldn't be slippery either.

That's why the shower area should have smaller tiles because it would increase traction and would be safer.

The risk of slipping in the shower would considerably decrease.

Whereas the other area of the bathroom should have larger tiles, which are easier to clean and maintain.

People generally use white tiles for the bathroom, this helps in making the bathroom look spacious and open since the size of the bathroom is generally small.

But it would be wiser to choose lighter colors instead of white as over time the white tiles start looking shabby and ruin the appearance of the bathroom.

Porcelain is very good in terms of durability and quality.

There is no requirement of sealing a glazed porcelain tile and its maintenance and cleaning are easy too.

Due to advancements in technology porcelain tile can simulate natural products such as wood and stone.

After porcelain, the next popular material of choice is ceramic tile.

It is less durable than porcelain and could also be more prone to scratching.

Thus this kind of flooring is not ideal for public spaces but could be a good choice for homes.

Natural stone tiles are undefeated in terms of the availability of patterns and colors.

The beauty of a natural stone is unique and can't be replicated by engineered stone and laminates.

The strength of the natural stone is also high and they are easy to clean.

Natural stones give a classy look.

But one must remember that natural stones are porous and therefore not readily chosen for bathroom and other wet areas.

If you do want to install natural stone flooring in the bathroom then you should make sure that the stone is treated with a sealer.

This process needs to be repeated.

It is quite easy to do so and could be done without any professional help also.

Concrete flooring is also a good option for bathroom and wet areas but it is often overlooked.

Having concrete flooring is very economical and one can use pigments to have colored concrete flooring.

One should ensure that it is properly sealed.

Concrete flooring can be made moisture-resistant and stain-resistant, this would ensure that your bathroom remains free of germs.

It is very easy to clean and maintain.

Also, it is a more sustainable option.

There has been a world of difference in concrete finishing.

It would lend a rustic look to your bathroom depending on the color you go for.
These are the different types of flooring that are suggested for the bathroom.
Choose the flooring depending on the decor theme you have and the one which complements your walls.
Choose the material based on your budget and the kind of time you can devote to a particular type of flooring.
The flooring shouldn't be slippery either.

Easy Nirman

Construction was Never Easy Before Us